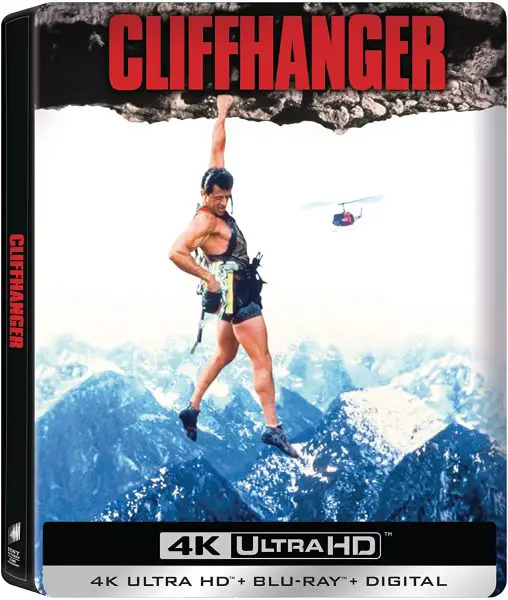 Cliffhanger (1993) starring Sylvester Stallone will celebrate 30 years with a Limited 4k Blu-ray SteelBook Edition that now features Dolby Vision (previously, the video only offered HDR10). The 2-disc edition from Sony Pictures Home Entertainment arrives May 30, 2023 and includes a 4k disc, 2k disc, and a code to redeem a Digital Copy.
On 4k Blu-ray, Cliffhanger is presented in 2160p resolution at 2.40:1 aspect ratio. As mentioned above, High Dynamic Range is offered via HDR10 and Dolby Vision. The soundtrack is provided in Dolby Atmos / Dolby TrueHD 7.1 channel formats. Subtitles are provided in English, English SDH, French, and Spanish.
The Cliffhanger 30th Anniversary 4k Blu-ray SteelBook has an MSRP of $45.99.
Description: Sarah was an inexperienced climber. She trusted Gabe to rescue her. But something went wrong high above the valley floor… For Rocky Mountain Rescue, the mission is almost routine: locate five climbers. With the woman he loves (Turner) and his best friend, Gabe Walker braves the icy peaks only to discover that the distress call is really a trap set by merciless international terrorist Eric Qualen. Now millions of dollars and their own lives hang in the balance.